DOS 523 - Week 2 Discussion
Writing Prompt
When using inhomogeneity corrections on treatment plans, explain how the dose is effected by the presence of bone and air. Which way do the isodose lines shift? Why? How accurately do the algorithms display these isodose lines?

Initial Post: Inhomogeneity Correction Models and Dose Distribution
Inhomogeneities in tissue physical density, and thus electron density, will result in variations in beam attenuation and scattering of secondary electrons that will change the pattern of dose deposition in targeted and nearby tissues.1 The most common high and low density tissues encountered in radiation therapy planning are bone, which is higher density than soft tissue, and lung, which is lower density than soft tissue.
There are several different algorithms for calculating dose changes due to inhomogeneities with varying levels of ease versus accuracy. On the simpler side, there are algorithms that compute an equivalent path length. In these methods, a 1-dimensional ray is sampled and path lengths through each tissue type are multiplied by a conversion factor to either increase or decrease that segment's effective length. The density-weighted section lengths are then added together to produce a total effective path length. These methods can be made simple enough to be used in hand calculations, or they can be broken down into small enough granularity to sample the variations in density based on actual measured CT density values at every point along the path.
Methods that only account for inhomogeneities along a ray trace can be good approximations if the tissue surrounding the ray is similar to what is sampled along the ray, such as might be encountered in tracing a ray through a skull into brain tissue. In more complex situations, such as when a ray passes near a region of inhomogeneity without actually cutting through and sampling it, these simple methods may fail to account for factors such as loss of electron equilibrium near tissue/air boundaries. Common examples of this scenario include breast tangent fields that skim across the lung surface and ribcage, and lung tumors that may or may not be adjacent to the chest wall, diaphragm, or mediastinum. Some advanced inhomogeneity correction algorithms are able to take into account the lateral component of scattered dose contributions, allowing more accurate modeling of dose distributions in inhomogeneous tissues.
Whichever method is used, the general theme is that low density regions in a beam's path will let the dose travel further with less attenuation loss, and high density regions in the beam's path will shorten the beam's penetration depth because of increased attenuation.
Using a practical example, below are images of an opposed pair of beams intended to treat a lung lesion adjacent to the mediastinum. Approximately half of the beam passes through the soft tissue of the mediastinum, and approximately half of the beam passes through low density lung tissue. In the first image, inhomogeneity correction is disabled, and the isodose profiles perpendicular to the central axes are relatively flat and straight across the beam other than subtle tilt due to the angle of the body surface.
When Eclipse's Analytic Anisotropic Algorithm (AAA) is enabled (second image), the same beams with the same MUs produce a very different dose distribution pattern. The portion of the beam passing through the open lung is attenuated much less than previously calculated, resulting in hot spots at both entrance points because of exit dose contributions from each beam's opposing partner. On the other hand, the dose at the medial side of the beam, near the midsagittal plane, remains almost unchanged because most of the path is still soft tissue. The attenuation effects due to the sternum and spine are difficult to isolate in these images because of nearby lung tissues and their associated electron equilibrium influences.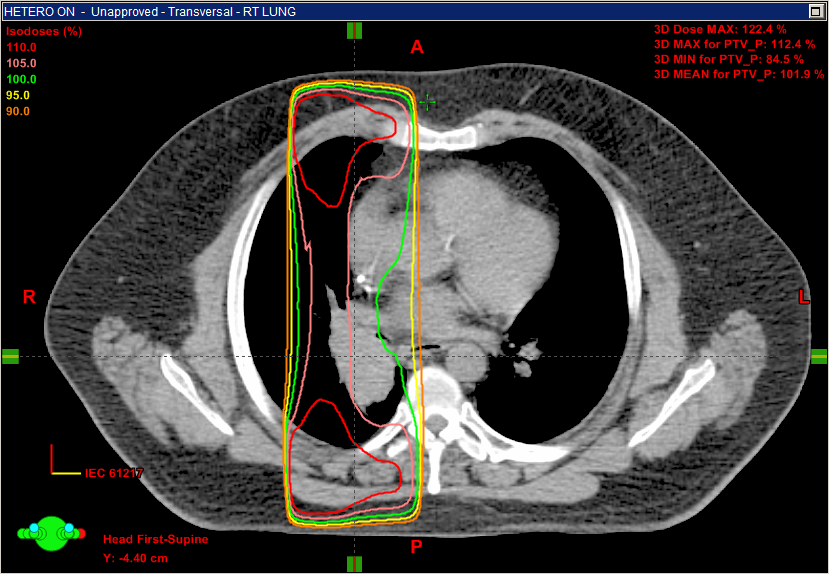 Eclipse's AAA algorithm falls into the category of algorithms that take into account lateral contributions, but that does not necessarily mean that it predictions are absolutely accurate. Every model is exactly that - a model that attempts to fit reality. A phantom study in 2007 by Fogliata2 attempted to survey the accuracy of various treatment planning system algorithms that were commercially available at the time, versus a Monte Carlo simulation that acts as a baseline. Eclipse's AAA (red line) was in the middle of the pack in the specific example of a beam passing through a phantom that had a large low-density region immediately adjacent to the central axis. This image shows algorithm performance at a point 4mm off axis, and it was chosen primarily to demonstrate the range of accuracies of different models, not to pick on specific algorithms from 8 years ago.
Every model is an approximation. Some are better than others in specific situations and yet worse in other situations. The key to developing trust in the modeling provided by any single algorithm is to understand how it works and to understand how to identify situations where it will be stronger or weaker.
Grayden, Chicago
Khan FM, Gibbons JP. The Physics of Radiation Therapy. 5th ed. Philadelphia, PA: Lippincott Williams & Wilkins; 2012:211-223.
Fogliata A, Vanetti E, Albers D, et al. On the dosimetric behaviour of photon dose calculation algorithms in the presence of simple geometric heterogeneities: comparison with Monte Carlo calculations. Phys Med Biol. 2007;52(5):1363-85.
---
Written February 25, 2015
Second Semester, 2 Months into Internship